From an idea that took shape in the mind of our founder, Mr. Sateesh Agarwal, to create the finest cast component manufacturing facility in the world, we have come a long way by establishing a state-of-the-art manufacturing facility that has potential to create unforeseen possibilities for the future of metal components.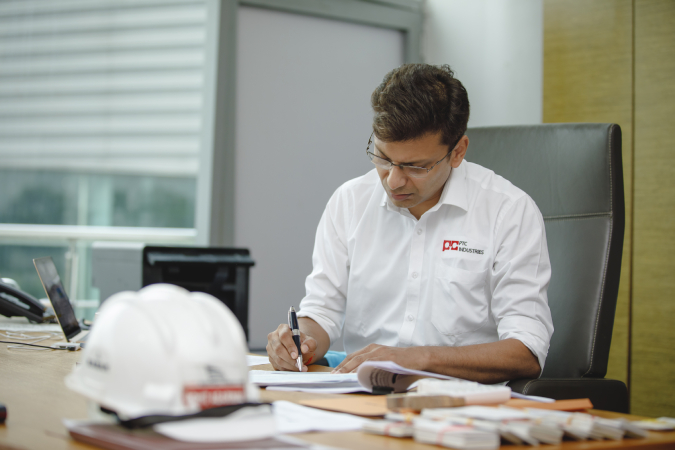 With the commencement of the first phase of commercial production in this unit, we have taken the first step towards the realisation of this dream and set course on a path of unprecedented growth and extraordinary prospects.
The underlying strength of our business has always been our focus on technology and our commitment to innovation, and the disciplined growth strategy that we have adopted has helped us navigate consistent performance even during times of great economic volatility.
We have continued our strategic investments in technologies that will ensure our long-term competitiveness and disruptor advantage. Our efforts on metal powder manufacture and 3D printing shall be as crucial to our success as our focus on producing vacuum melt alloys and large investment cast parts. The nature of the manufacturing industry is also shifting with the advent of Industry 4.0 as advanced technologies combine with digital systems that make operations more dynamic. These systems, like artificial intelligence, big data analytics, and business monitoring algorithms shall amplify human productivity and dramatically increase the capability of core business activities. Hence, we have also turned our focus to transforming our operations by the use of digital technology to augment our practices in customer relationship management, video analytics, compliance, quality control and assurance.
We are privileged to serve a wide range of customers, most of whom are leaders in their industries. It is heartening that they recognise the transformation that PTC has undergone, and the winning combination that it now offers them with its pathbreaking technologies, systems and processes and fundamental commitment towards enhancing customer profitability. With PTC as their partner, they shall be able to combine their deep knowledge of the industry, markets and products with the power of the best technologies, metallurgies and processes to generate more profitable revenue streams and capture a bigger share of the market.
Our implementation of organizational change and manufacturing excellence programs will enable our teams to demonstrate a more customer-centric and performance-driven culture. With increased accountability for quality and delivery, we are developing an approach aligned with the specific needs of each customer and the dynamics and trends within their markets. This will enable faster decision-making and clarity, as well as enhanced agility in our response, which will benefit our customers. 
Our efforts of the past few years have begun to translate into financial performance that will continue to grow as the capacities and capabilities that we have built are utilised. Our optimism about the external economy and our own growth remains strong with the belief that our focus on technology and innovation shall be rewarded by not just financial performance, but also the loyalty and respect of our customers. We are investing in our future. This also applies to us as an employer. We have already begun a process to ensure that PTC remains a company where people of all diversities enjoy working and find a deeply satisfying environment that encourages their personal growth and development. We have also undertaken structured skill development initiatives among fresh graduate trainees with metallurgical and engineering backgrounds. This has been an exceptionally successful exercise, and the agility and curiosity these young engineers exhibited is both promising and exciting for us.
A few years ago, we laid out a growth strategy designed to take advantage of the unique strengths that have made PTC a leader in its field. These included a sharp focus on technology; dedication to an innovative mindset; deep integration across our business processes; disciplined investment in equipment and infrastructure; and industry leading execution from our highly skilled workforce. With sheer focus, endurance and commitment to our goals, we have stayed the course and successfully managed to sustain and grow in an ever-challenging external environment. Through our combination of innovation, technology, talent and a culture rooted deeply in honouring our commitments, we have proven that as an organisation, we have the strength and resilience to deliver world-class, cutting edge products and solutions for the most critical applications. It is our commitment that we will continue to shape the Company towards a positive growth trajectory, and remain true to our vision, mission and values.
I am deeply grateful to each of our customers, suppliers, bankers, central and state government agencies, shareholders and employees for their willingness to embrace change as we transform this Company for unparalleled success. I am extremely optimistic about the positive industrial growth that has been set in motion by the government of Uttar Pradesh, and our experience of the support and encouragement that we receive from various government agencies and officials is a testament to the changing investment environment in Uttar Pradesh.
We have always believed in creating value for our stakeholders by putting them first and respecting their expectations. We have built lasting relationships with our customers, suppliers and other stakeholders, and are committed to delivering long-term value to all of them. We are convinced that the trust, integrity and passion that brings our employees together as one team also forms the fundamental base of successful partnerships for our business. We know that these are the key ingredients to a successful value-driven growth strategy for the future.