The metal component industry is a huge industry globally, and the majority of metal parts are made in the world through welded fabrication or forgings while castings constitute a much smaller percentage of this industry. Historically, castings are considered inferior to forgings due to the latter's superior strength, better mechanical properties and much greater reliability due to the susceptibility of sand-moulded cast parts to defects like porosity, shrinkage, inclusions, etc. The grain flow in forgings is oriented in directions requiring maximum strength and the refined grain pattern imparts higher mechanical properties, while castings have neither grain flow nor directional strength and the manufacturing process itself leads to certain metallurgical defects.
Castings find application where the parts required are near-net-shape or complex while the crude or bulky form of forgings prove a barrier in the manufacture of such components. Forgings are generally heavier, require far more machining and metal removal than cast parts, and dies used for manufacture of forgings are also more expensive. These characteristics make the forging process more cost-prohibitive for producing complex, net-shape parts in medium to large sizes, especially in expensive and exotic materials like Stainless Steel, Duplex, Super-Duplex, Inconel and Titanium.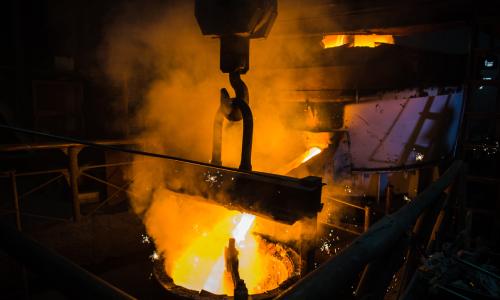 In view of the pros and cons of both processes, PTC's innovation led to the inception of a new technology, Forgecast™ which brought the best of both worlds together - where castings and forgings converged.
During the Forgecast™ process, densification of metal castings occurs by application of gas pressure at an elevated temperature. Consequentially, internal micro-porosity is eliminated by plastic deformation and diffusion bonding. This results in a significant improvement in mechanical properties, including fatigue life and significantly improves product consistency.
Process Attributes:
Modified versions of our existing casting processes (Replicast® and Rapidcast™). This eliminates porosity in castings and virtually guarantees a Level 1 product every time
This combination also allows our engineers to optimise component design and manufacture, whilst simultaneously improving micro-structural homogeneity and material properties.
Problems related to difficult to feed thin wall castings and fine grain alloys are resolved
This also enables salvage of rejected parts
For After Market, Projects and Customized Solutions:
100 gms to 2,500 kgs per piece
Low to high Volumes
ASME code pressure vessel combined with 2 Unique Processes
1150mm (D) x 2500mm (L) at 1250°C and 100MPa (14500 psi)